Combating pests through biodiversity is Château Brown's strategy for limiting its use of crop protection products, but it is also driven by a desire to manage its water, soils, energy consumption and carbon footprint.
75 bat shelters and 75 nesting boxes for great tits and blue tits were installed at the beginning of the year.
The aim of this is twofold: give a habitat back to two species that feed on insects, but also increase biodiversity and thus boost the estate's resilience by limiting serious pest infestations (in particular vine moth larvae, which winemakers dread).
Château Brown is the ideal setting for this with its twelve hectares of preserved forest and a six-hectare park, surrounding the plots of vines laid out in a single stretch. Tits and bats live in the wild on the estate, but primarily nest in forests where there are more hollows available. They generally settle in areas that offer food and shelter. The vines are pruned every year so do not have this 'forest' element, and these animals are also cavity nesters that need hollows where they can shelter and nest. And so, the estate turned to Brice Le Maire, founder of the Agri-Nichoirs company. These little shelters mean that the creatures will be able to live permanently in the vineyards.
The tit nesting boxes are 100% made in France, environmentally designed, biosourced, and made from reed produced in Brenne regional nature park. The bat shelters are made of 'Douglas' wood from sustainably managed French forests.
The nesting boxes are created from biomaterial, namely reconstructed reed. The reed bed is in France. The reeds are naturally occurring, do not use any agricultural production areas, and are sustainably managed.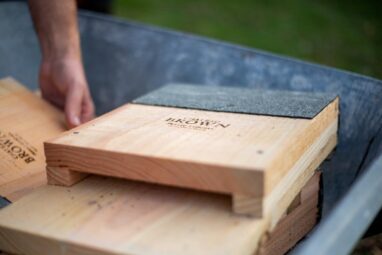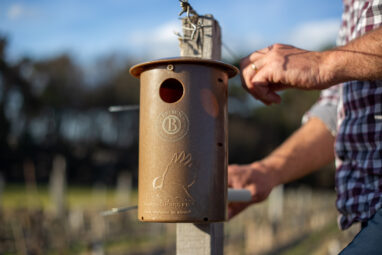 Their presence keeps pest populations in check over time. Bats, great and blue tits complement each other and are effective in different areas: the birds come out during the day and hunt insects in their crawling stage, whilst bats attack flying creatures after night falls.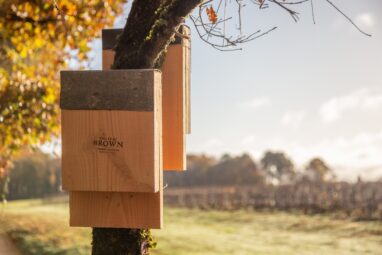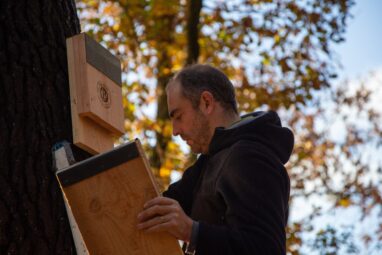 However, Brice Le Maire offers a reminder that the most important element is to have a complex ecosystem: 'Bats, great and blue tits are not the solution on their own. Creating a strong and resilient ecosystem requires the greatest possible diversity. Seeking diversity and trusting life are both key ways of resisting climate change, for example. An ecosystem's wealth can be viewed as a toolkit. The more tools you have, the more solutions you have available to fix your problems!'
That is truly Château Brown's philosophy!
'We will promote biodiversity in the vineyard as far as possible by planting vegetation cover, hedges, various trees, and bird nesting boxes to counteract the negative effects of monoculture and offset the carbon footprint of our activities.' – Jean Christophe Mau, manager of Château Brown
The question of effectiveness is always complex. It is always difficult to determine how effective prevention measures are. Château Brown is not seeking to achieve pest regulation results at any cost – instead, it is primarily looking for a biodiversity preservation tool. It will take a little time for the titmice to want to start nesting amid the vines! Occupation rates are very variable and depend on numerous factors – not all of the 150 shelters erected will be used. This is very much a long-term project. We are recreating a habitat, but occupation happens gradually over the course of three years. We are hoping for 10% occupation in the first year and 50% within three years. All of the nesting boxes have been georeferenced. Monitoring is very important to ensure that the equipment remains relevant. Brice will be monitoring and checking the occupation rates of various shelters in August 2022, after titmice have nested and during the peak bat activity period. Depending on the results, others may be installed in future years.