At Château Brown, the 2018 vintage is raising high hopes.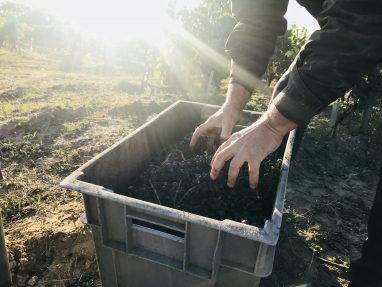 At Château Brown, the 2018 harvests got off to a promising start on 31 August. In just a few days, we brought in the white grapes, with the Sauvignon Blanc followed by the Semillon. The first tastings of the juices suggest some fine (and indeed very fine) prospects, with aromas of rare intensity, backed up by good acidity and a fresh edge for the Sauvignon Blanc, and a very rounded sensation for the Semillon.
The whites are just easing their way towards the end of their fermentation in barrels and we will soon be able to start stirring the lees.
There can be no doubt that quality levels are high for whites and reds alike! The climate conditions since July have allowed the grapes to become concentrated and ripen nicely.
The weather has remained fine through the end of the summer and harvesting resumed just a few days ago for the red grape varieties, beginning by the Merlot. We should finish in around mid-October for the Cabernet-Sauvignon. The vinification of the first Merlot grapes has revealed outstanding fruit character, deep colours, rare aromatic power and silky tannins with very high polyphenol concentrations.
The outstanding feature of this vintage is that the (sometimes extreme) weather conditions have caused a "natural" reduction in yields. For example, the drought that has continued on into September has contributed to a reduction in the volumes of reds.  Although the heat naturally reduces the yields, however, the positive side is that it makes for more concentrated, powerful wines.
An extraordinary vintage is therefore in preparation at Château Brown…!