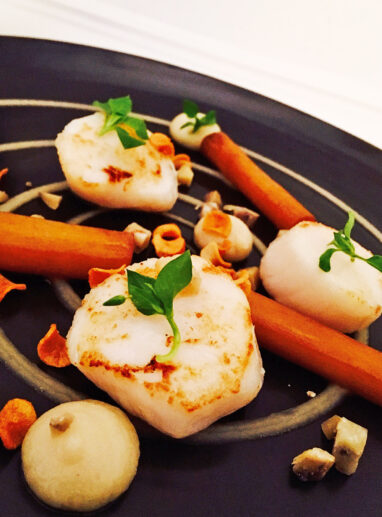 To accompany this wine, I would recommend "Tender scallops from Dieppe, butter-roasted salsify, chestnut medley, with a chestnut reduction", a dish by Romain Guyot, Head Chef of the fine dining restaurant Le Gabriel in Bordeaux.
Wine & food pairing is suggested by Adrien Cascio, Head Sommelier, and Romain Guyot, Head Chef at Restaurant Le Gabriel in Bordeaux. (December 2017)
« Château Brown 2016 is a fine white wine, joining the ranks of haute couture quality wines. From the outset, the bouquet offers a full array of precise aromas. Fruity notes suggest exoticism, ripe mango, kumquat and a hint of vanilla. The mouthfeel offers a perfect balance. Bold, tart acidity leads into to a mouthwatering, complex finish. Subtle notes of lime tree and juniper berry will set the tone for dishes playing on contrast and elegance. This is a highly successful vintage, a Chateau Brown classic, with precise oak qualities, remaining true to the expression of its terroir ». Adrien Cascio, Chef Sommelier.
Bon Appétit !