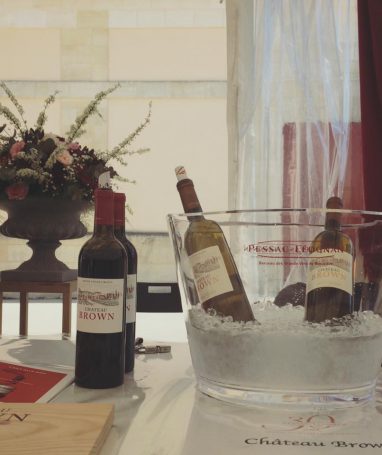 The 2016 Primeurs campaign has just started and we provide you here more explanations on this exceptional 2016 vintage in Pessac-Léognan, and especially at Chateau Brown…
Watch our video here to know everything on 2016 vintage at Chateau Brown.
A FORTUNATE, RECORD BREAKING VINTAGE
The winter was exceptionally mild and very wet: from 1st January to 1st April, almost 600mm of rain were recorded over three months. Following this, only 344mm fell for the rest of the growing year – from 1st April to 30th September, and the average temperature at Brown stood at over 18°C.
The spring remained wet and cool, leading to later flowering and fruit set. From 20th June, the weather conditions changed suddenly, and were highly beneficial to the vintage. The summer was very warm and dry. An episode of providential rain (40mm) on 13th September occurred, re-balancing the situation. It was the first and only real rainfall throughout the summer – between June 20th and September 12th, only 30mm of rainfall were recorded. This allowed us to avoid too much water stress on our vines. As of mid-September, the ripening process of red varieties began again. The end of the season was fine, the sun continued to work on the vines, and the ripening process went on. The 8th of September was the starting point for our Sauvignon Blanc harvest, unfolding beneath a radiant sky! The fruit was in perfect condition – so much so that no sorting was necessary for this year's whites.
On 4th October, we began picking the Merlots, then from 12th to 22nd of October we finished with our superb Cabernet Sauvignons. For the first time at Château Brown, we used optical sorting for our Cabernet Sauvignons. Like our whites, our red grapes attained great ripeness. The harvest was a success, and the yield generous.

WINES WITH GREAT POTENTIAL
The yield was exceptionally generous without being excessive, allowing us to aspire to a "juicy" vintage!
The colours are deep, the palate ample, powerful, and fruity. The aromatic range is very complex.
Never had our Cabernets been quite so "Merlot-like", a sign of exceptional maturity. Never has a vintage fostered as much hope during its creation. Clearly this 2016 vintage, just like the 2015 one, will be one to remember, taking its place amongst the great vintages of these past 20 years.