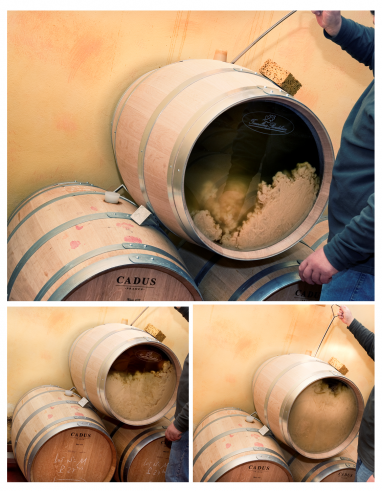 Did you know ?
Our white and rosé wines are ageing on fine lees… Some explanations !
What are wine lees?
Lees are leftover yeast particles due to the self-destruction of yeast cells by enzymes created from fermentation.
Sometimes, lees are used in white and sparkling wines (like Champagne) to add beneficial textures and flavors.
At Chateau Brown, depending on the wine, lees aging can occur for as little as 4 months for our rosé wines or as 8 months for our white wines!
We also stir the lees (called « bâtonnage » in French) to increase the surface area of lees contact and thus the extraction.
In oak barrels, the fine lees are stirring weekly for white wines and twice a month for rosé wines.
What do lees do?
This process give a textural weightiness and increased body in the wine. Wines will be richer, with a greater depth and complexity of flavor.
Find more informations on our wines here