Choose the cardboard box packaging rather than a wooden crate is an environmentally-friendly gesture.
Cardboard boxes are an interesting proposition in more ways than one: easier to recycle, with significantly reduced packaging and energy consumption.
Packaging our entire annual red wine production required 18 tonnes of wooden packaging materials!
The majority of stakeholders in the Bordeaux sector offer wines in wooden cases, as this is commonly viewed as a sign of quality and solidity. The problem is that as it currently stands, unlike cardboard, there is no national recycling programme for wood.[1]
The second issue is the amount of energy consumption for the volume of packaging materials. A cardboard box enables a 40% reduction in energy consumption compared with a wooden box![1]
Cardboard boxes are lighter[2] and above all are delivered flat to the estate's warehouses. Transportation from the manufacturer to Château Brown therefore requires fewer trucks (four times less by volume than for wooden boxes).
Whilst seeking to maintain quality levels and the prestige of a top-quality product, we are breaking the mould and using this discourse to innovate and offer a local cardboard box made in Nouvelle-Aquitaine. This box is fully recyclable and is made from 61% recycled fibre and cardboard from sustainably managed forests. Thanks to the inks[3] it uses and its eco-friendly inking, this cardboard box boosts recyclability while reducing its carbon footprint.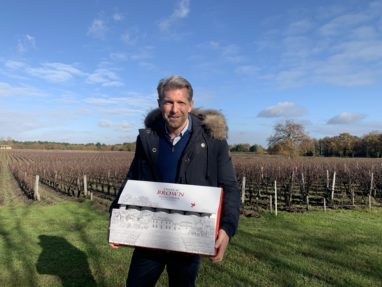 [1] Comparative study performed via the software BEE: comparison of end of life for UVC packaging
[2] The difference in weight between the six-bottle cardboard box designed by Château Brown and a wooden box with the same capacity is more than 1 kg. Empty 1*6 cardboard box: 0.588 kg VS empty 1*6 wooden box: 1.702 kg