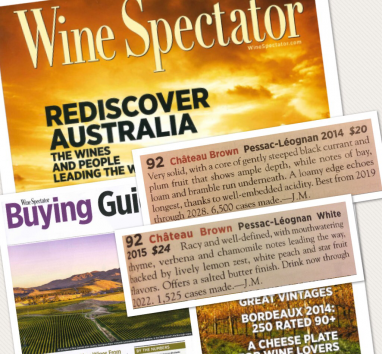 Over the last few months we have received some very prestigious scores for the 2014 Château Brown red and the 2015 white.
Château Brown Red 2014 has obtained 92 points awarded by James Molesworth in the Wine Spectator and 91 points from Neal Martin and James Suckling.
Our Château Brown white 2015 also been received some very impressive ratings, with 92 points awarded by James Molesworth. He was also awarded in February by the Drinks Business magazine, which organized the « Global Sauvignon Blanc Masters ». Approximately 300 wines from all over the world were tasted, the best wines were awarded medals ranging from Bronze to Gold, but Château Brown Blanc 2015 received the ultimate title of « Master »: atributed only for exceptional wines. Find more information here.