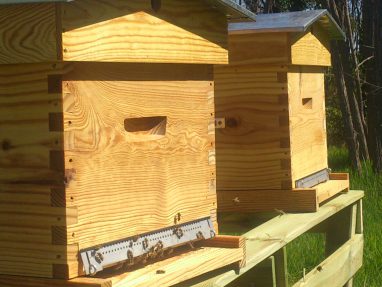 At the end of March, a beekeeper: Vincent Dugarry, has installed six new hives at Chateau Brown on one of the many non-cultivated parts of the estate.
You will soon be able to taste our honey too. First we let the bees settle in and adapt to their new environment.
Hives represent a population of 100,000 bees. Bees has just installed, now we must let them adapt to their new environment, before they begin to produce honey. Gradually the colony will grow to reach 200,000 to 240,000 bees and our bees will pollinate up to 1,500 hectares.
On the property we have acacias, chestnut trees and many other floral species, which should allow us to produce an « all flowers » honey… We can not wait to taste this honey!
The bee is an excellent witness to the quality of the environment in which it evolves and we must protect it … You should know that at Chateau Brown our bees forage freely in an environment where plant-care products are used judiciously and we have developped integrated vineyard practices.